Scottish Wedding Tartan Traditions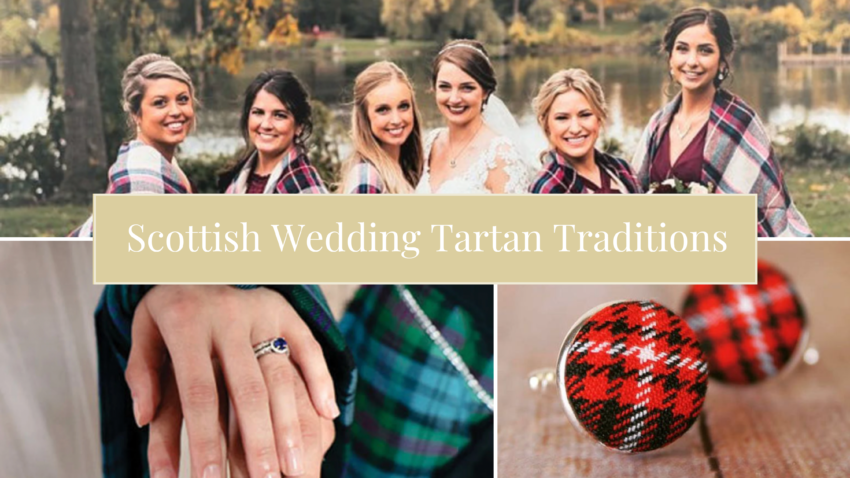 This Scottish Wedding Tartan Traditions: Incorporating Tartan Wedding Accessories into Your Wedding Day post includes affiliate links. When I find a great product or service, I like to share it with my readers. Sometimes I use affiliate links so I can earn a commission for my recommendations. Thank you for your support!
Incorporating Tartan Wedding Accessories into Your Wedding Day
Over the years, we've had many brides approach us to make tartan wedding shoes. Tartan bridal shoes are some of my favorite designs, mostly because I love the incorporation of one party's (or both) heritage into the wedding ceremony. I just think it's a lovely way to bring two families together.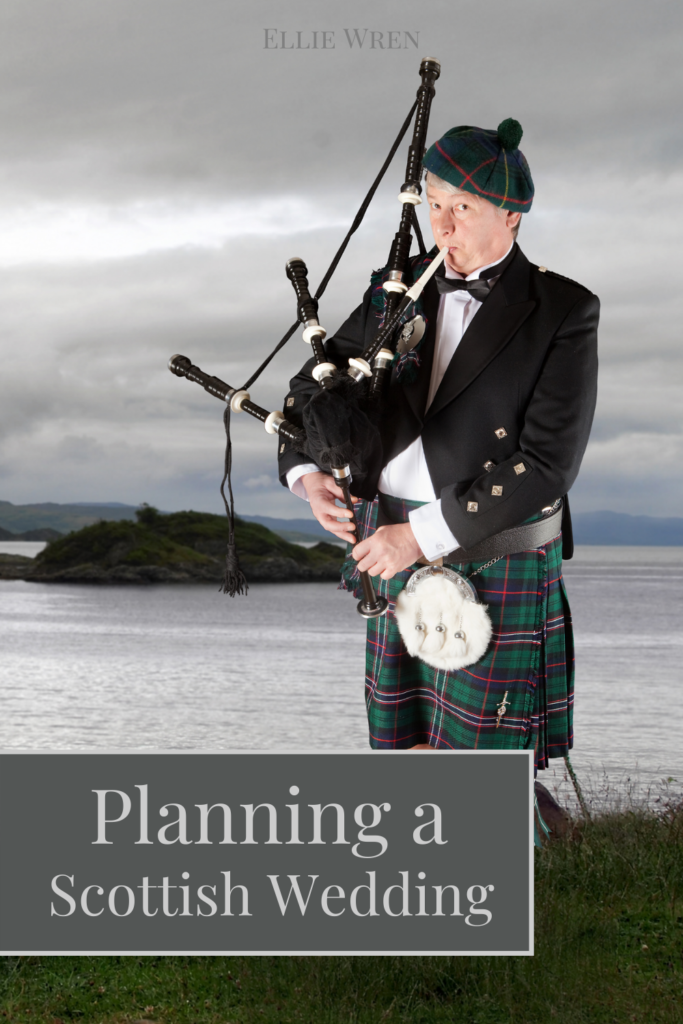 In chatting with these brides, I got to learn a little bit more about what else they were doing to incorporate Scottish wedding tartan traditions into their wedding days. It's a fascinating history, one steeped in traditions that will make your heart swoon.
And so, for this week's blog post, I thought I share some of these Scottish wedding tartan traditions with you.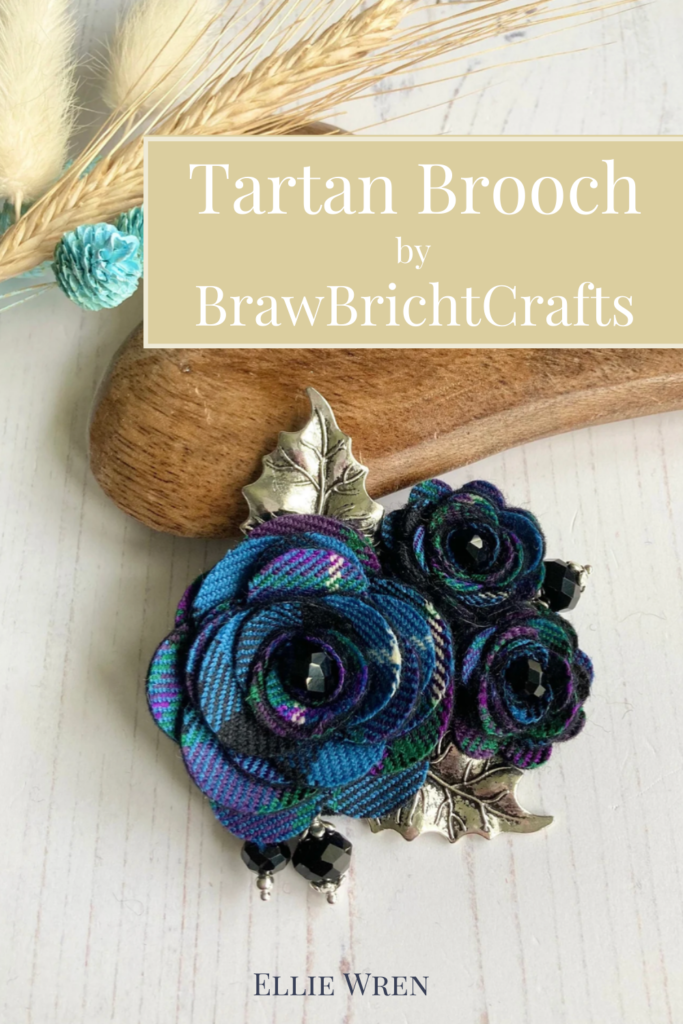 Scottish Wedding Tartan Traditions: Wedding Attire
In traditional Scottish weddings men wore the family clan, usually as a kilt and a cape pinned off one shoulder. This custom has evolved over the years with grooms finding new and creative ways to incorporate tartan into their wedding day. Popular examples include tartan cufflinks, ties, cummerbunds, suits and vests.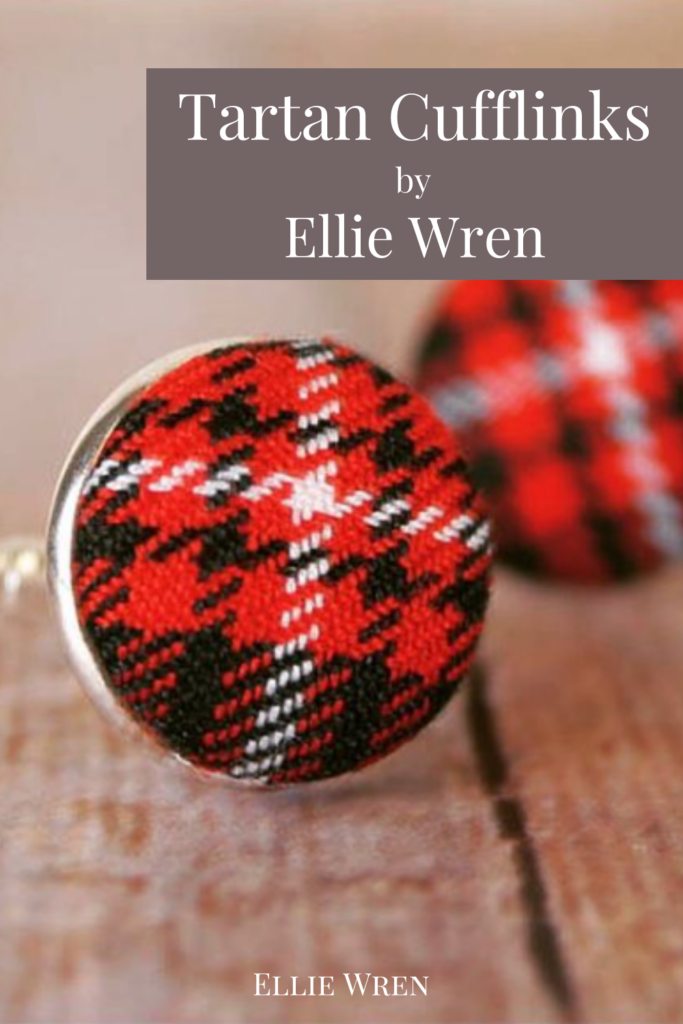 Scottish Wedding Tartan Traditions: Wedding Shoes, Thistle Ties & Tartan Sashes
Traditionally brides did not wear tartan as part of their wedding dress. Rather, brides gave a nod to their heritage by carrying a bouquet of thistle and heather — traditional Scottish wedding flowers. Today, thistle finds its way into Scottish weddings through boutonnieres (like this one by WeddingAccessoriesUS) or cleverly printed ties (loving this one by Frederick Thomas).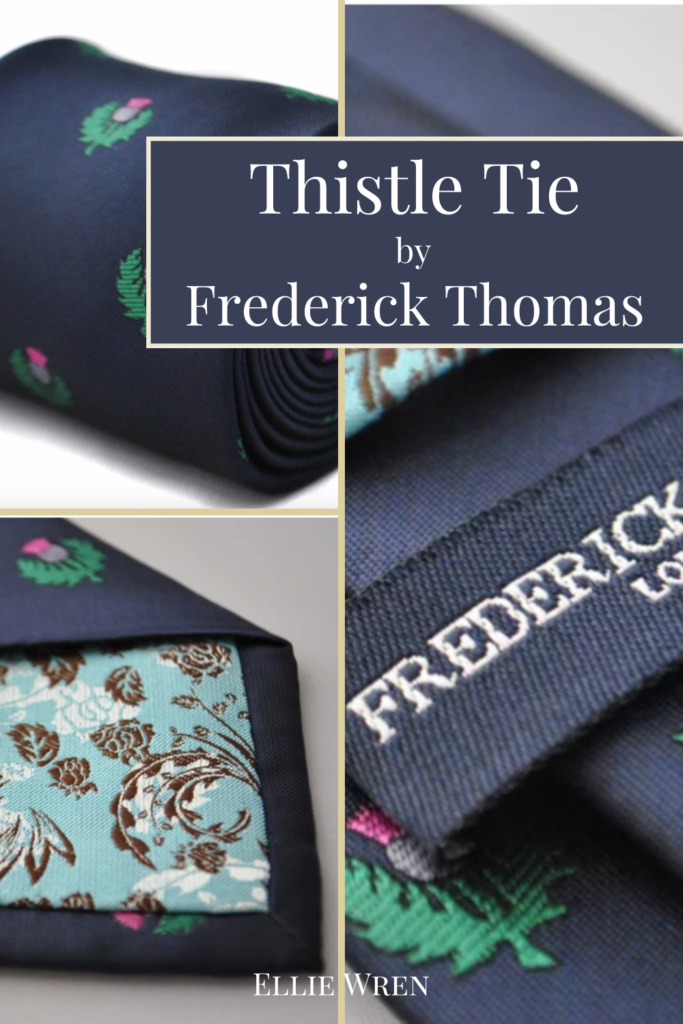 A bride's introduction to a family tartan usually occurred after the vows in a ceremony known as the sashing of the bride. In this tradition, brides were presented with a sash made of the groom's family tartan by the groom's mother. The sash was often secured with a luckenbooth – a brooch given to the bride by the groom as a symbol of his love.
A bride's ability to incorporate tartan into her wedding day has come a long way, however. Wedding day elements like tartan wedding shoes, tartan pendants (love these designs by KatMartin), tartan corsets and even a full tartan wedding dress are more popular than ever.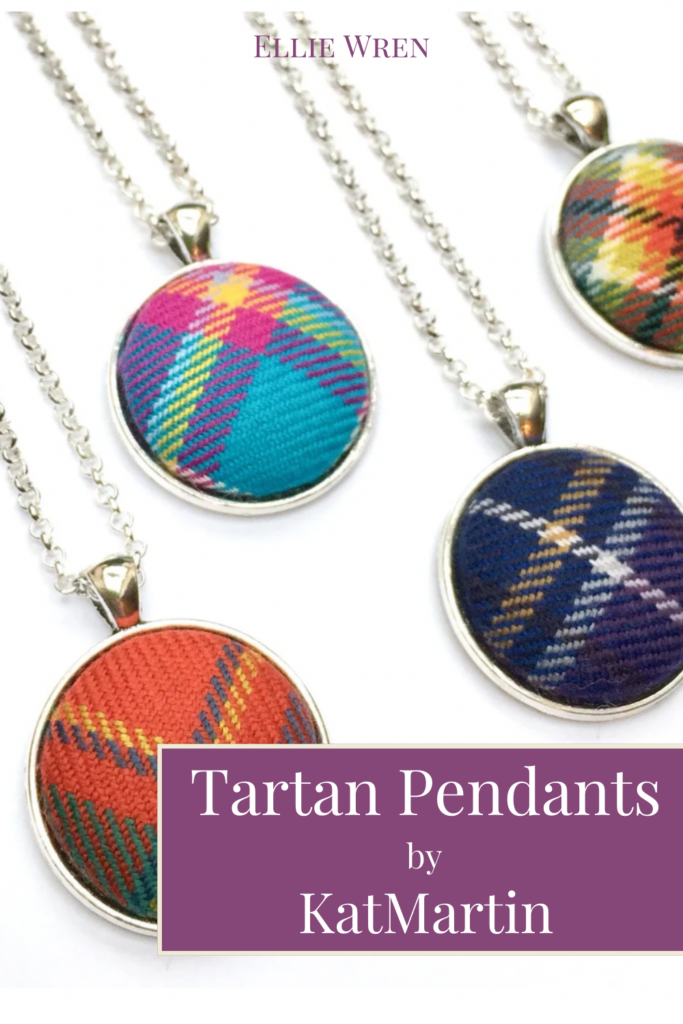 Tartan is also showcased by the wedding party in fun (and warm) ways. Just look at how lovely these bridesmaids look in these Scottish shawls and wraps! [Scottish shawls and wraps by InTheBagDesign]. Guests and family members can also showcase the family tartan in small ways, like by wearing a tartan brooch (how lovely is this one by BrawBrichtCrafts).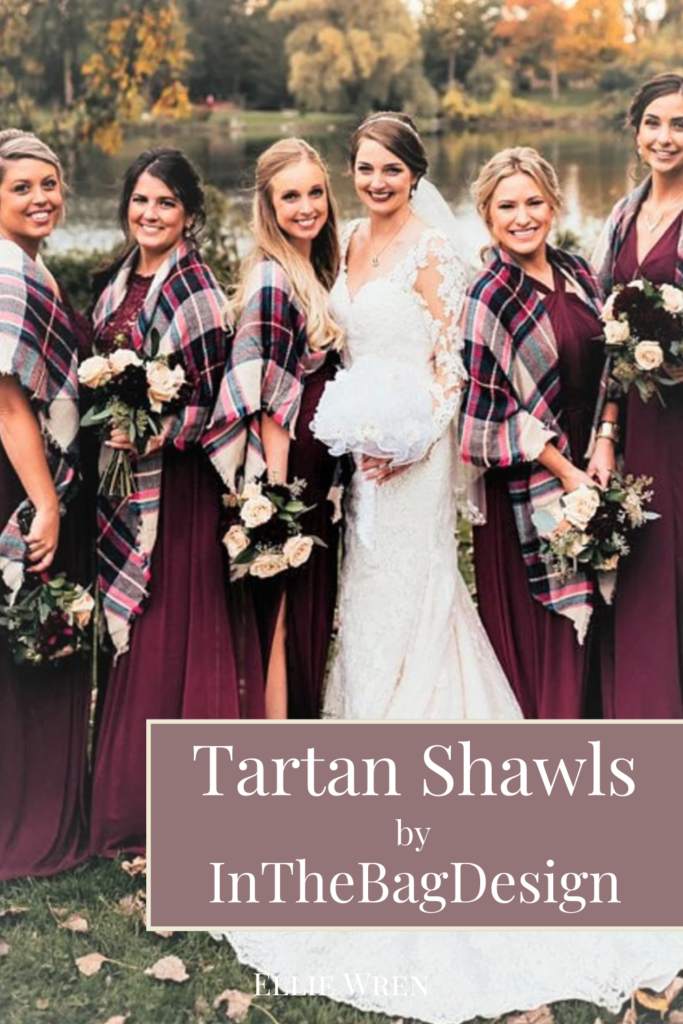 Scottish Wedding Vows
Perhaps my favorite traditions though are handfasting and the use of the two-handed quaich (loving cup) for the couple's first toast.
Handfasting dates back to the Middle Ages when couples marked the legally binding nature of their union by holding hands. The tradition later evolved to incorporate the tying of the couples hands together, usually with a tartan sash. Today, handfasting remains a popular element in Scottish weddings and sashes for the occasion are easily found on websites like Etsy (homespun handfasting tartan by TheCelticCroft).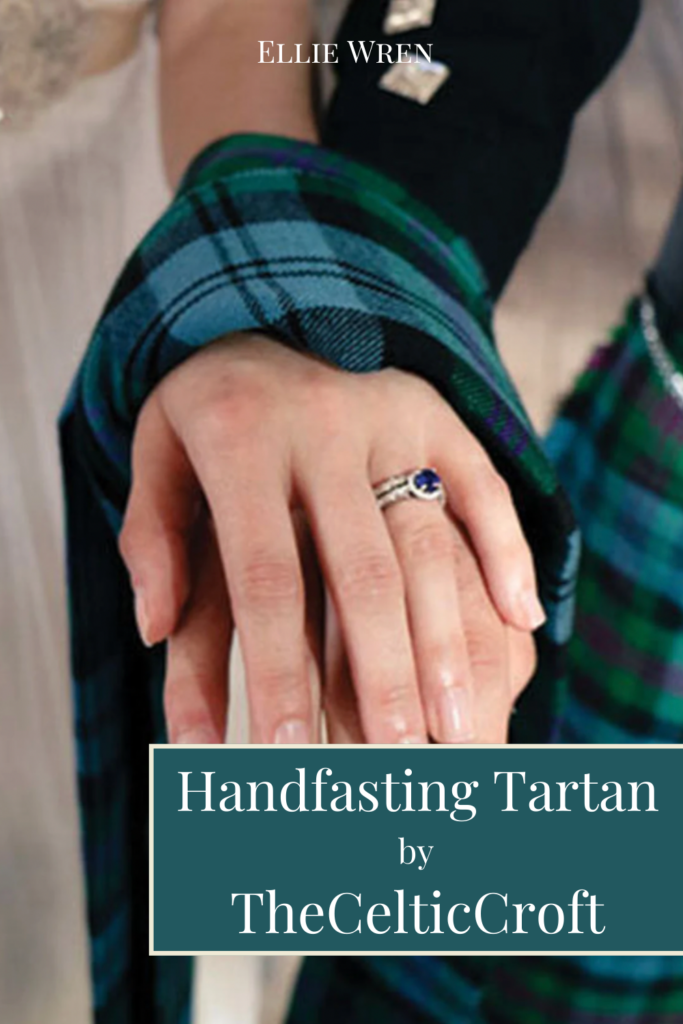 For the first toast, the quaich is filled with whiskey and both the bride and the groom sip from it symbolizing their bond.
Planning a Tartan Wedding
Hopefully this post gave you some inspiration if you're considering a Scottish wedding. There are some many lovely ways to honor Scottish wedding traditions.
If you're looking for more information, I found these articles helpful in my research:
About Ellie Wren
Ellie Wren is a custom wedding shoe and accessory boutique dedicated to helping brides design their dream custom wedding shoes. Through a high-touch process, brides work directly with an Ellie Wren bridal shoe consultant to realize their wedding shoe design.
Whether brides are looking for a unique twist on ivory wedding shoes, comfortable wedding flats in the perfect shade of blush, sparkly wedding shoes with an open-toe or highly personalised wedding shoes, Ellie Wren is uniquely qualified to make their vision a reality.