50 Wedding Quotes We Love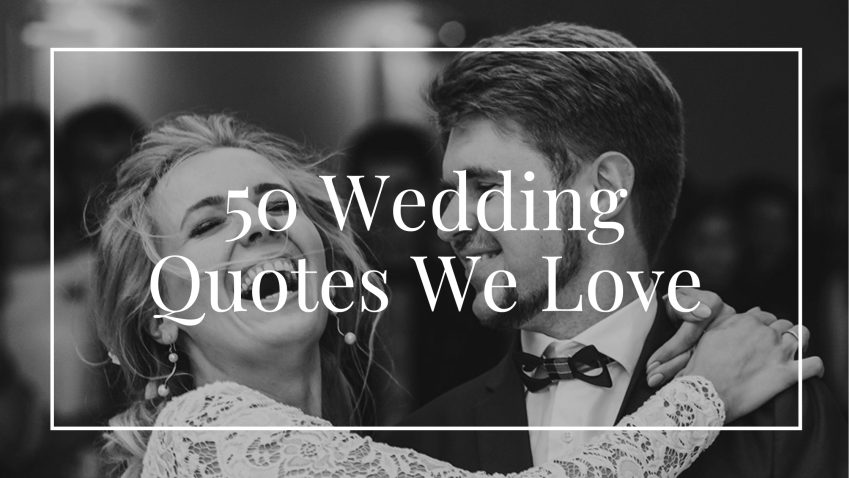 Are you struggling to find the perfect words to express your feelings on your big day? Worry no more! With these amazing wedding quotes, you can add a touch of humor, sentimentality, or tradition to your vows, toasts, speeches, and more.
Without further ado, here are 50 Wedding Quotes We Love.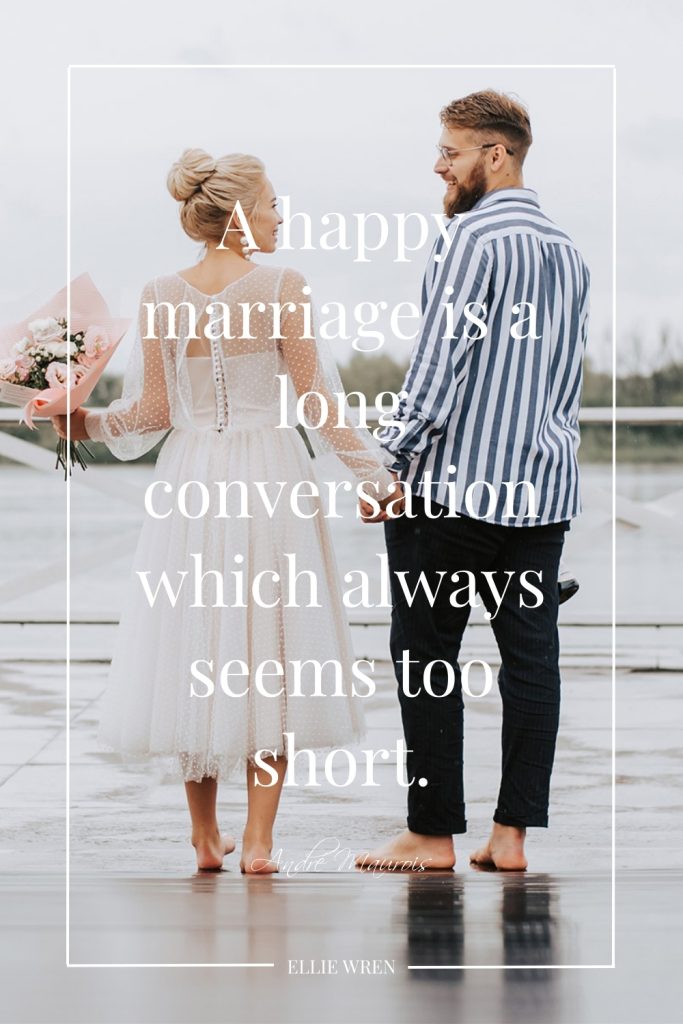 "A happy marriage is a long conversation which always seems too short."
André Maurois
"Thinking of you keeps me awake. Dreaming of you keeps me asleep. Being with you keeps me alive."
Unknown
"Love does not alter the beloved, it alters itself."
Soren Kierkegaard
"Love recognises no barriers, it jumps hurdles, leaps fences, penetrates walls to arrive at its destination, full of hope."
Maya Angelou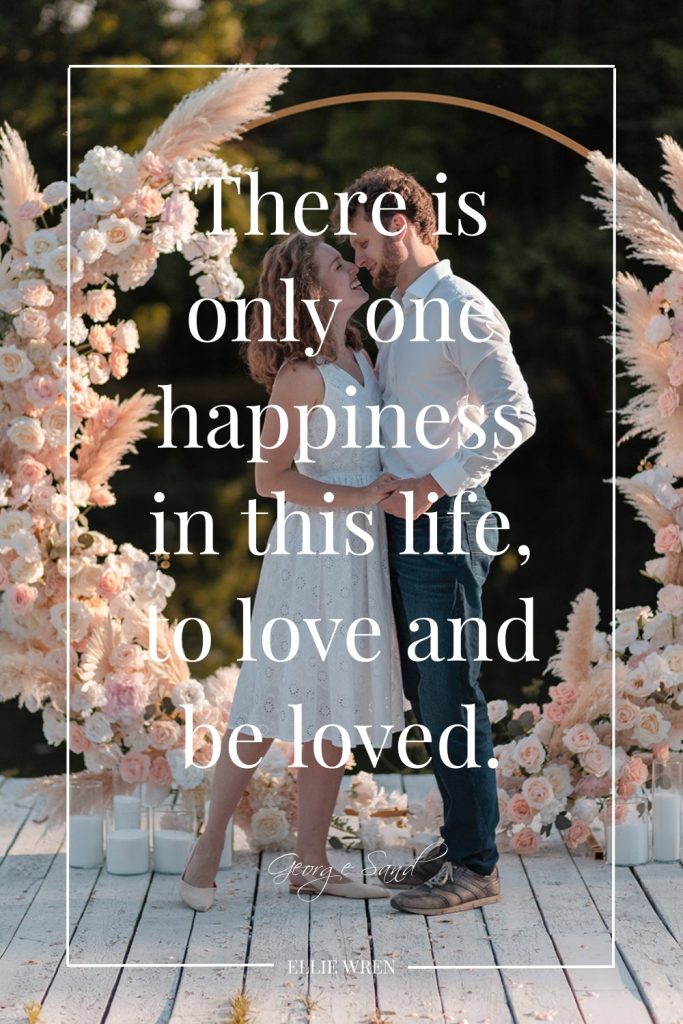 "There is only one happiness in this life, to love and be loved."
George Sand
"Love takes off the masks we fear we cannot live without and know we cannot live within."
James Baldwin
"If you are with the right person, it brings out the best version of you."
Beyonce Knowles
"When you trip over love, it is easy to get up. But when you fall in love, it is impossible to stand again."
Albert Einstein
"One day, in your search for happiness, you discover a partner by your side, and you realize that your happiness has come to help you search."
Robert Brault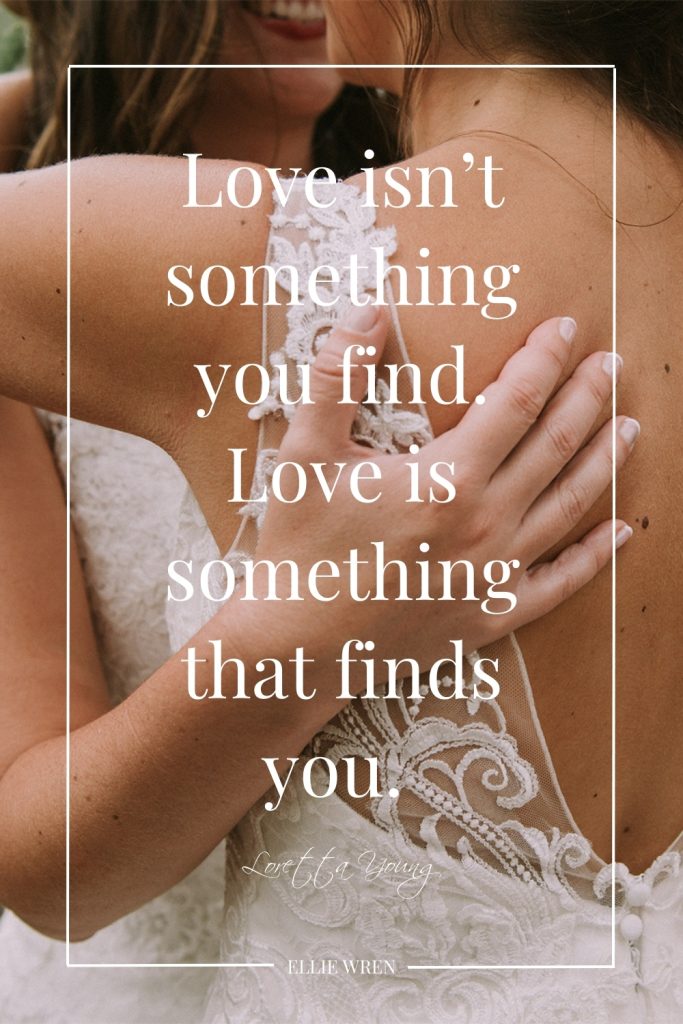 Love isn't something you find. Love is something that finds you.
Loretta Young
"Yours is the light by which my spirit's born: yours is the darkness of my soul's return—you are my sun, my moon, and all my stars."
EE Cummings
"You don't marry the person you can live with—you marry the person you can't live without."
Unknown
Love is shown more in deeds than in words.
St. Ignatius
"I would rather share one lifetime with you than face all the ages of this world alone."
J.R.R. Tolkien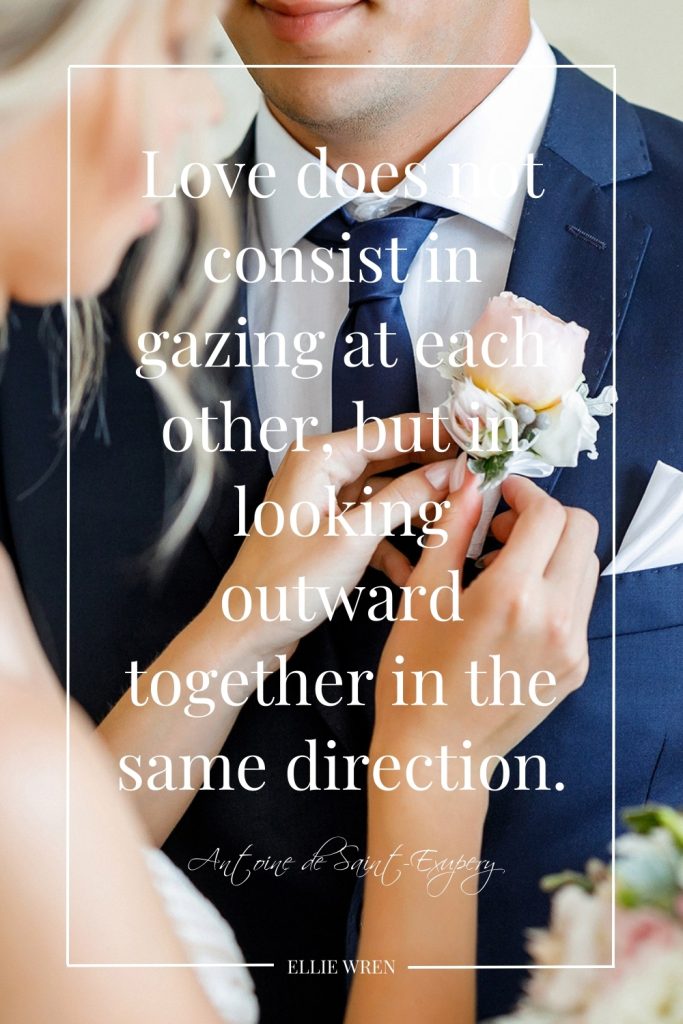 "Being deeply loved by someone gives you strength, while loving someone deeply gives you courage."
Lao Tzu
"Love does not consist in gazing at each other, but in looking outward together in the same direction."
Antoine de Saint-Exupery
"Love is like a friendship caught on fire."
Jeremy Taylor
"To love and be loved is to feel the sun from both sides."
David Viscott
"Love is that condition in which the happiness of another person is essential to your own."
Robert A Heinlein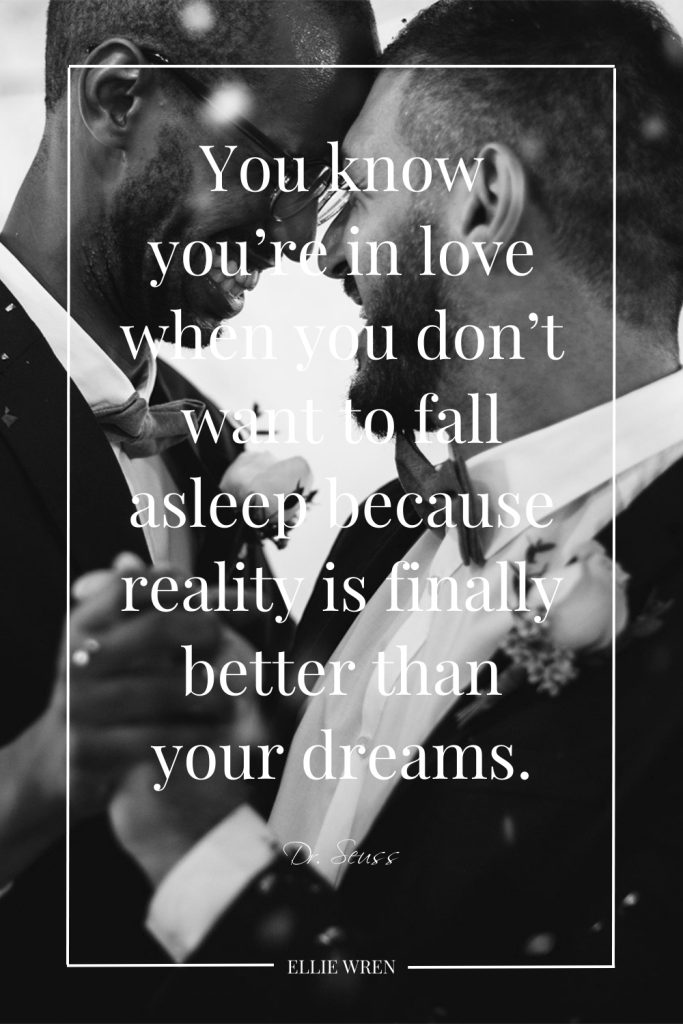 "When you realize you want to spend the rest of your life with somebody, you want the rest of your life to start as soon as possible."
Nora Ephron
"You know you're in love when you don't want to fall asleep because reality is finally better than your dreams."
Dr. Seuss
"True love stories never have endings."
Richard Bach
"I think… if it is true that there are as many minds as there are heads, then there are as many kinds of love as there are hearts."
Leo Tolstoy
"He's more myself than I am. Whatever our souls are made of, his and mine are the same."
Emily Bronte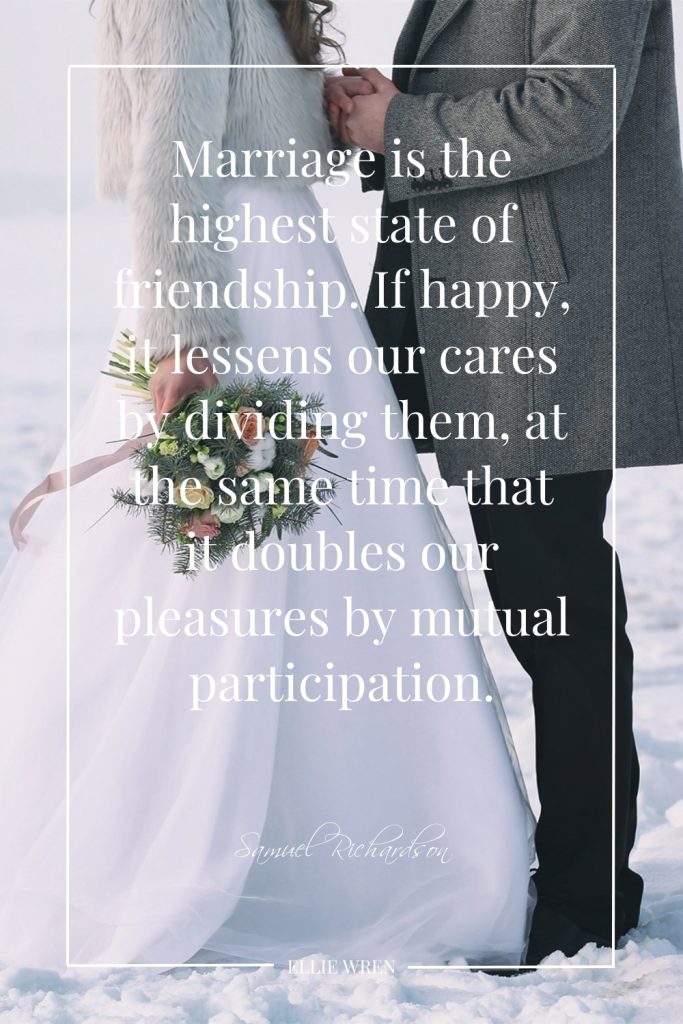 Love is like the wind, you can't see it but you can feel it.
Nicholas Sparks
"Marriage is the highest state of friendship. If happy, it lessens our cares by dividing them, at the same time that it doubles our pleasures by mutual participation."
Samuel Richardson
"A great marriage isn't something that just happens; it's something that must be created."
Fawn Weaver
To love is to recognize yourself in another.
Eckhart Tolle
"Marriages, like a garden, take time to grow. But the harvest is rich unto those who patiently and tenderly care for the ground."
Darlene Schach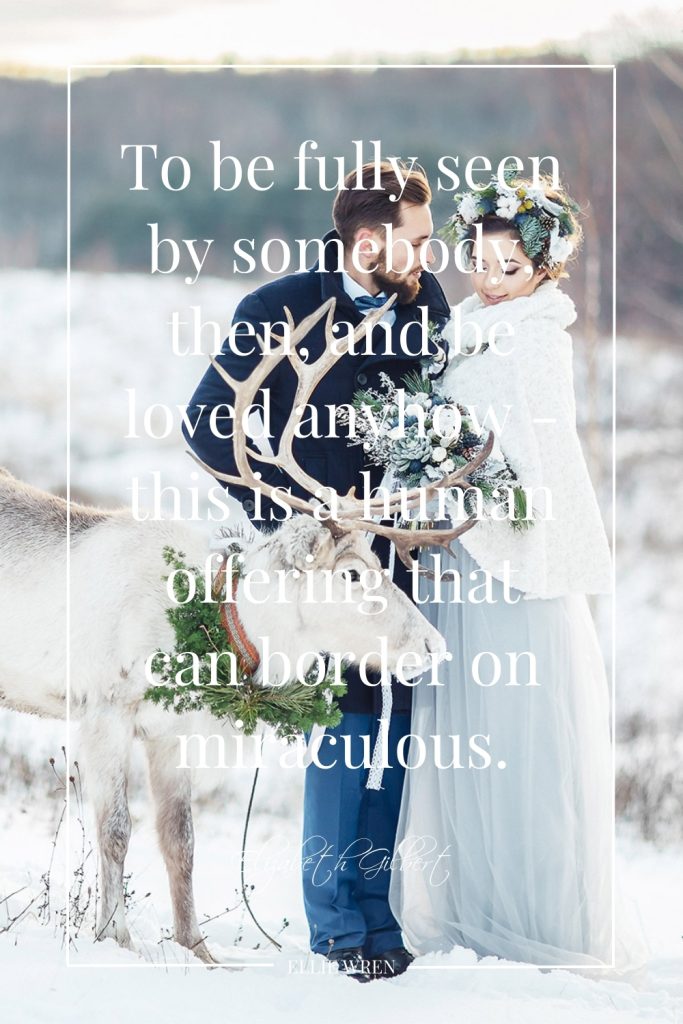 To be fully seen by somebody, then, and be loved anyhow – this is a human offering that can border on miraculous.
Elizabeth Gilbert
"When we love, we always strive to become better than we are. When we strive to become better than we are, everything around us becomes better too."
Paulo Coelho
"Chains do not hold a marriage together. It is threads, hundreds of tiny threads, which sew people together through the years."
Simone Signoret
"Coming together is a beginning; keeping together is progress; working together is success."
Henry Ford
"It's amazing how one day someone walks into your life, and suddenly, you can't remember how you lived without them."
Anurag Prakash Ray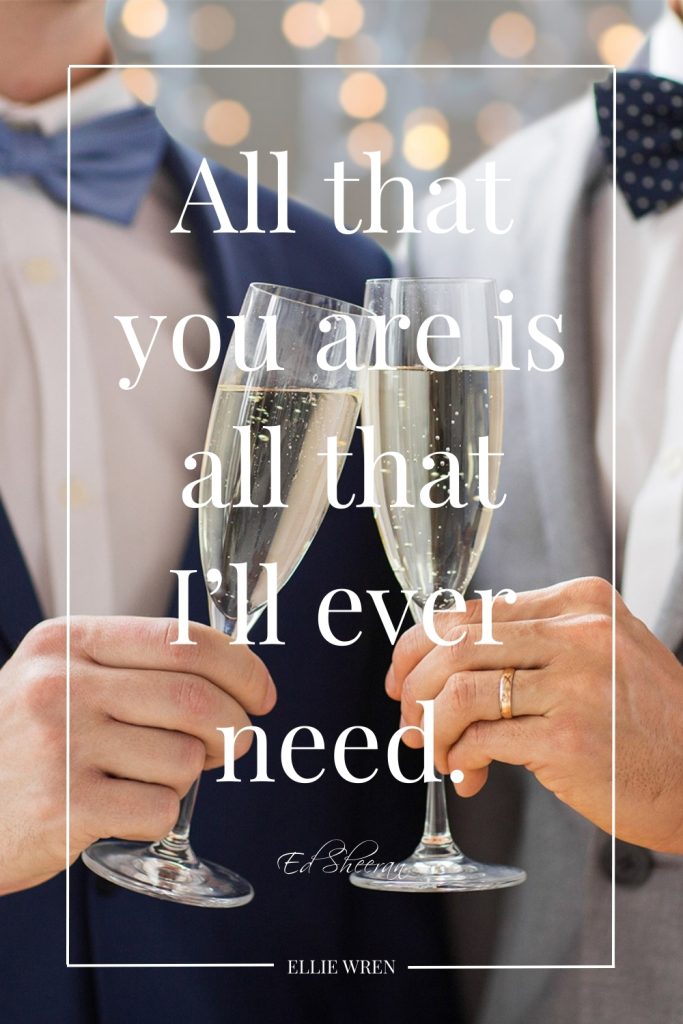 "All that you are is all that I'll ever need."
Ed Sheeran
You know it's love when all you want is that person to be happy, even if you're not part of their happiness.
Julia Roberts
"A marriage is not a noun; it's a verb. It isn't something you get. It's the way you love your partner everyday."
Barbara De Angelis
"Lots of people want to ride with you in the limo, but what you want is someone who will take the bus with you when the limo breaks down."
Oprah Winfrey
Love has nothing to do with what you are expecting to get — only with what you are expecting to give — which is everything.
Katharine Hepburn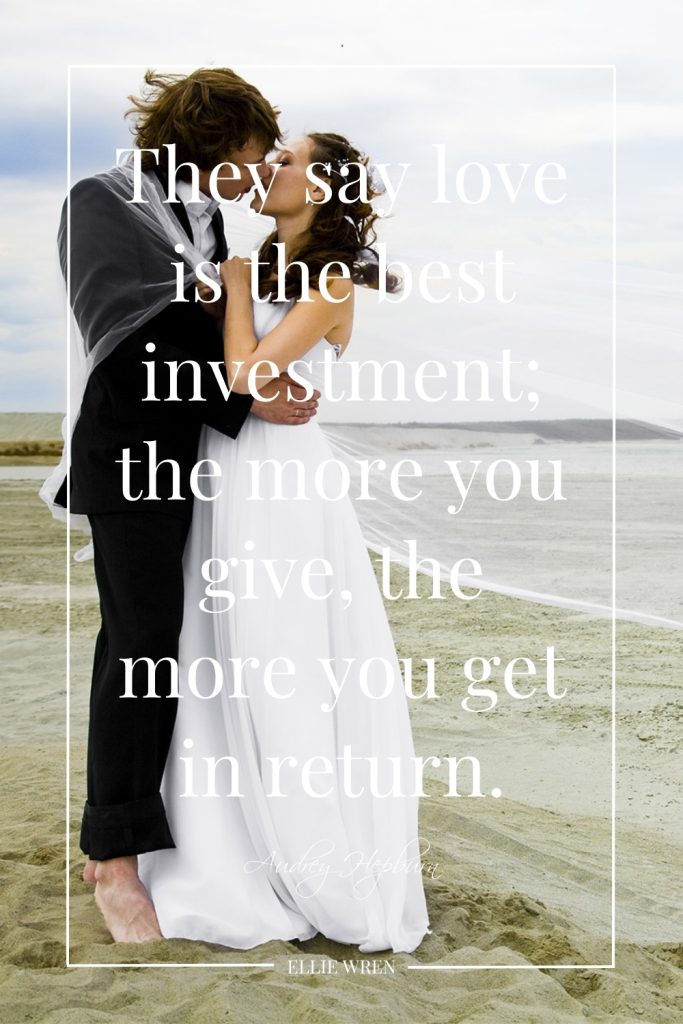 "They say love is the best investment; the more you give, the more you get in return."
Audrey Hepburn
"I love you not only for what you are, but for what I am when I am with you."
Roy Croft
"Because when I look at you, I can feel it. And I look at you and I'm home."
Dory, Finding Nemo
"True love is singing karaoke Under Pressure and letting the other person sing the Freddie Mercury part."
Mindy Kaling
"I swear I couldn't love you more than I do right now, and yet I know I will tomorrow."
Leo Christopher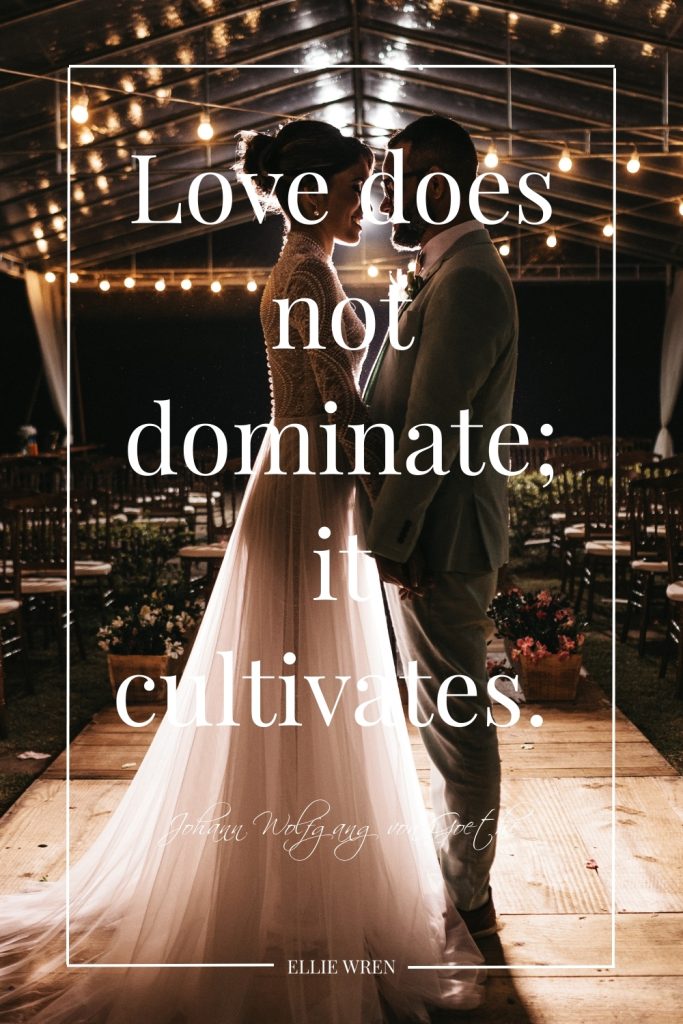 Love does not dominate; it cultivates.
Johann Wolfgang von Goethe
I love her, and that's the beginning and end of everything.
F. Scott Fitzgerald
Love is composed of a single soul inhabiting two bodies.
Aristotle
I fell in love the way you fall asleep: slowly, and then all at once.
John Green
There's nothing that I wouldn't do to make you feel my love.
Bob Dylan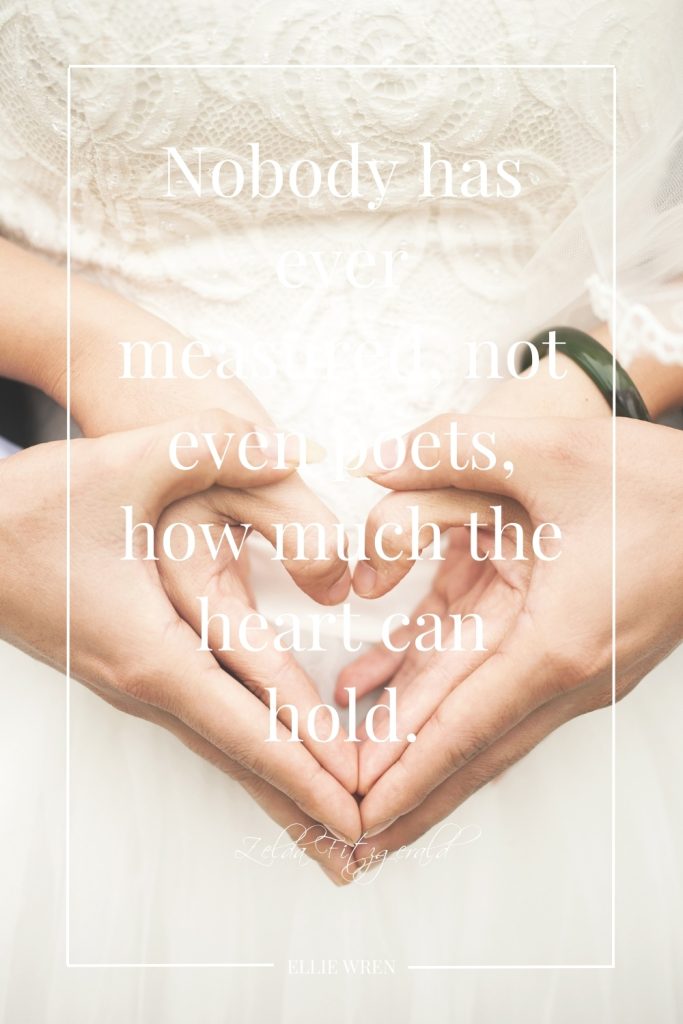 Nobody has ever measured, not even poets, how much the heart can hold.
Zelda Fitzgerald
So, there you have it – 50 Wedding Quotes That We Love! Whether you want to offer some words of wisdom or add a bit of laughter to your bridal shower toast or best man speech, these quotes are guaranteed to help you get there.