7 Ways to Make Your Wedding Day Sparkle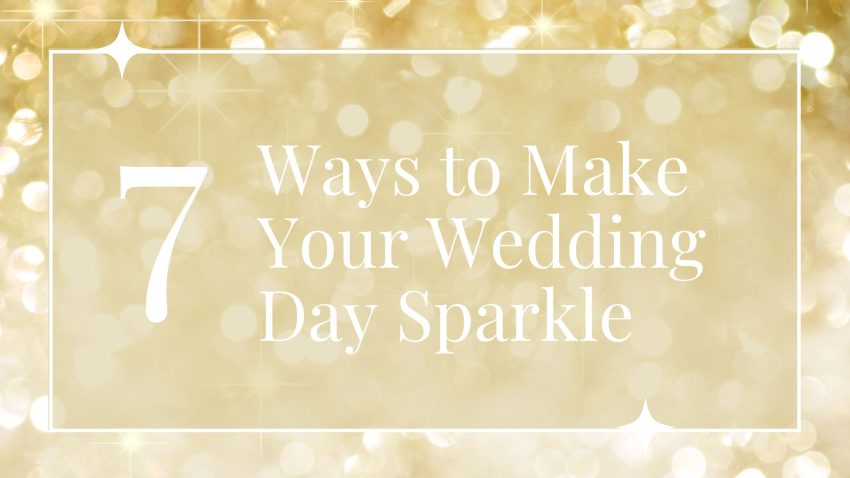 When it comes to a wedding day that sparkles, there are a few obvious elements. A diamond engagement ring definitely comes to mind.
But if you're looking for different ways to bring bling to your wedding day, check out list of 8 Ways to Make Your Wedding Day Sparkle blog post below.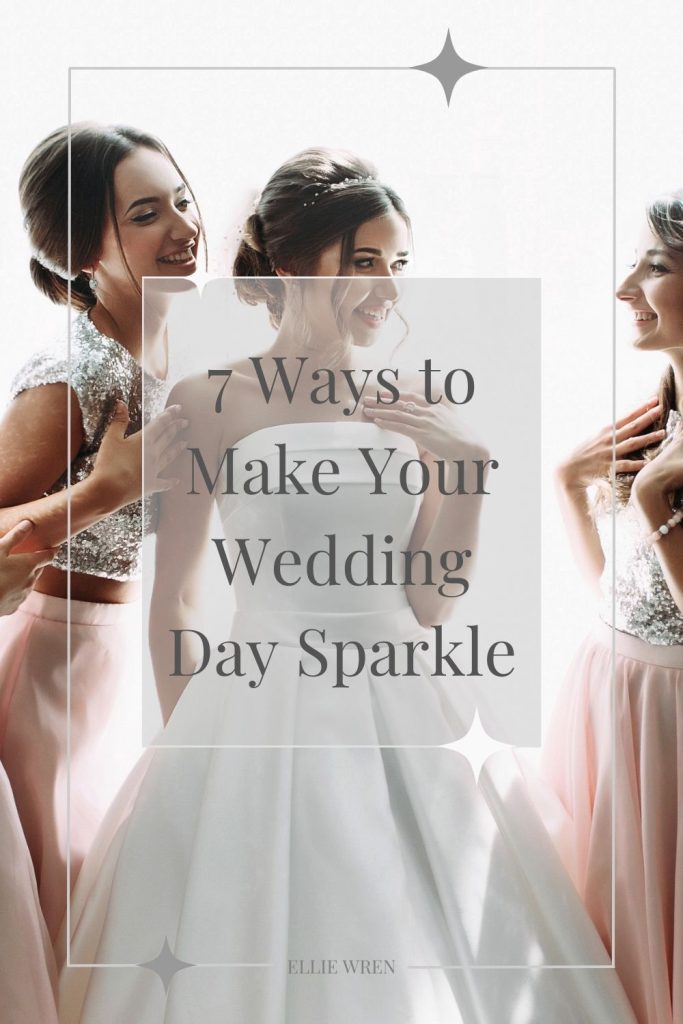 Choosing a Wedding Dress That Sparkles
A bit of wedding day bling isn't limited to your finger. If you're into catching light as you tear it up on the dance floor, consider choosing a dress with crystals sewn into the design.
Adding Bling to Bridesmaid Dresses
Are you looking to add some extra sparkle and shine to your bridesmaids' attire for your upcoming wedding? Look no further than the dazzling world of crystals, rhinestones, and sequins!
Whether you want a subtle touch of glitz or an all-out blinged-out look, there are endless options to choose from. Add a sprinkle of crystals to the bodice of a classic chiffon gown for a timeless look, or go bold with a fully sequined gown that will have your bridesmaids turning heads all night long.
Not only will the added bling make your bridesmaids feel like a million bucks, but it will also elevate your wedding photos to the next level.
Add a Little Sparkle to Your Step
When it comes to wedding attire, shoes are often overlooked. However, the right pair of shoes can make all the difference in completing your look. If you want to add some extra sparkle to your bridal outfit, styling your wedding shoes with crystals, glitter, sequins, and other embellishments can create a dazzling effect.
Heels are always a popular choice for brides, and adding crystals or sequins to the heel or toe can make them stand out. If you prefer a more comfortable option, sandals can also be adorned with glitter or crystals for a touch of glamour. Don't be afraid to get creative with your shoe styling and make a statement on your big day.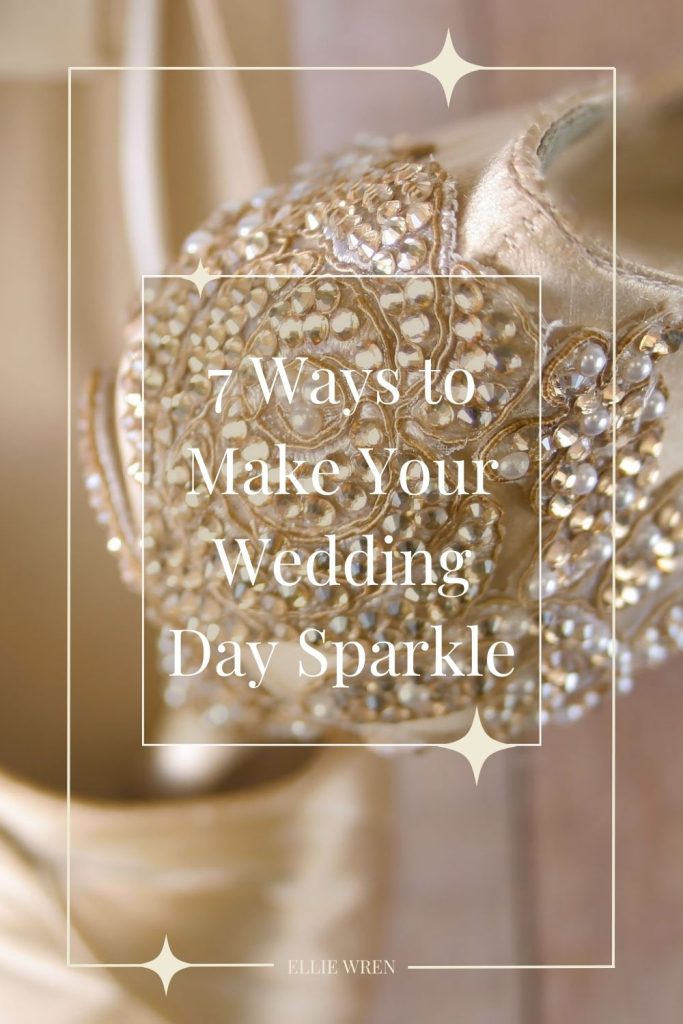 Incorporating Sparkle Into Your Wedding Day Decor
When it comes to planning a wedding, every detail counts, and the decor is no exception. Incorporating sparkle into wedding decor is an excellent way to add a touch of glamour and elegance to the event.
One way to do this is through the table setting. Using crystal or glassware will add sparkle to the table while also reflecting the lighting.
Another way to incorporate sparkle is through the backdrop. Using sequin or metallic curtains as a backdrop will create a stunning effect and set the tone for the event.
Lighting is also important when it comes to adding sparkle. Using twinkling lights or chandeliers will create a romantic and magical atmosphere that will leave guests in awe.
Lastly, using decor that has a subtle sparkle, such as glitter votives or metallic accents, will tie the whole theme together.
The King of Bling: Wedding Day Jewelry
Choosing the perfect jewelry and accessories for your wedding day can be a daunting task, but it's also one of the most exciting parts of wedding planning. One of the most important pieces of jewelry for a bride is her earrings. Earrings can add a touch of elegance and sophistication to any bridal look and we're especially fond of drop earrings that swing and sparkle with light.
Wedding day jewelry doesn't have to break the bank either. Swarovski crystal earrings are a popular choice for brides because they offer a timeless beauty and a touch of glamour.
And don't dismiss adding a necklace! Just remember that it's important to choose a necklace that complements the neckline of the dress and doesn't overpower the overall look.
Sparkling Wedding Day Send Off Ideas
Your wedding day is the most magical day of your life, and what better way to end it than with a sparkling send-off?
Imagine being surrounded by shimmering lights and colors as you and your partner start your journey together. With glitter confetti, you get to add a touch of whimsy and fun to your send-off. Sparklers, on the other hand, create a magical and romantic atmosphere that will leave you and your guests feeling enchanted.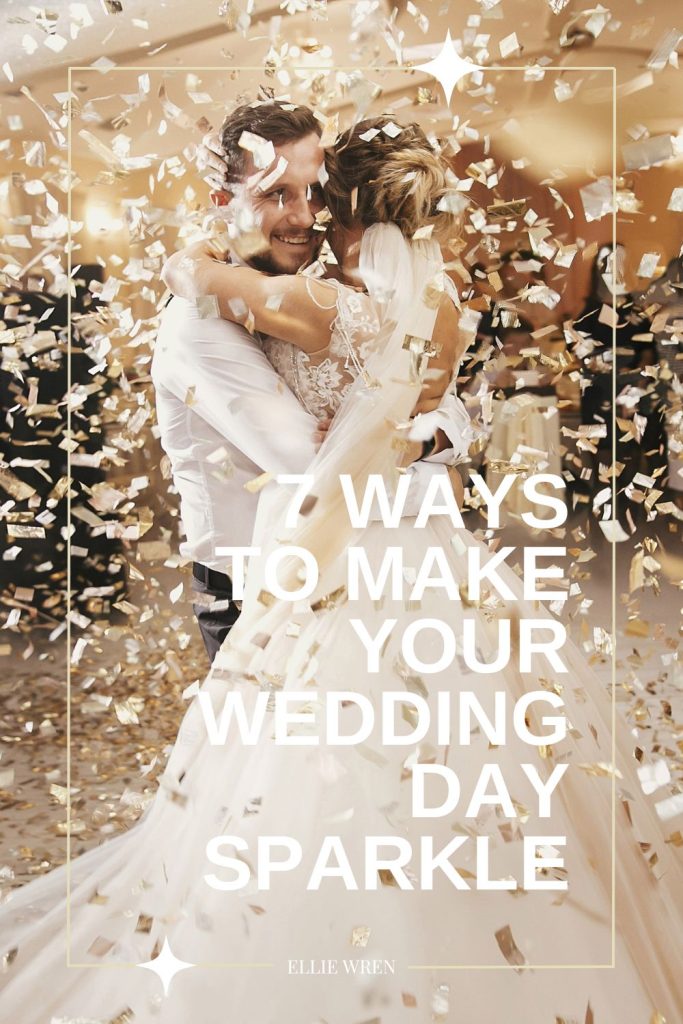 Votives are perfect for a more intimate and cozy send-off. And if you're looking for something truly unique, consider floating lanterns – they will create a breathtaking spectacle that you'll never forget.
So, go ahead and choose the perfect sparkling wedding day send-off that matches your personality and style, and make your wedding day unforgettable!
Sparkling Wedding Cake Ideas
Oh, how we love the idea of a sparkling wedding cake! It's the perfect way to add a touch of glamour and magic to your special day. From sparkler cakes to geode cakes, there are endless possibilities when it comes to incorporating bling into your wedding cake design.
One of our favorite trends is the edible glitter cake, where the entire cake is covered in edible glitter for a truly stunning effect. And let's not forget about the breathtaking geode cake, which features a stunning edible crystal formation that looks like it was plucked straight from the earth.
Whether you opt for a subtle touch of glitter or go all out with a metallic masterpiece, a sparkling wedding cake is sure to wow your guests and make your big day even more memorable.